Satoshi London Dry Gin in a gift box
€42,50 inkl. MwSt.
Includes 19% MwSt.
(

€

85,00 / 1 L)
500ml | 44 %VOL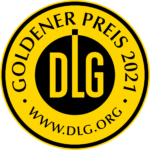 Box: A wonderful cardboard gift box coated with natural paper including a bottle of Satoshi Gin.
Gin: Satoshi London Dry Gin is a gin produced in the classic London Dry Gin process. However, it surprises with the fresh aromas of the Sicilian Moro Blood Orange. The characteristic freshness of this citrus fruit is discreetly surrounded by lemongrass. The spicy note of selected batches of fresh mace (the seed coat around nutmeg) and the exclusive jungle pepper which only grows wild in the tropical forests of Madagascar, also called bourbon pepper, form the body with fine spicy and sweet tasting juniper. Angelica root and violet root, along with other ingredients, round off this distillate.
Out of stock